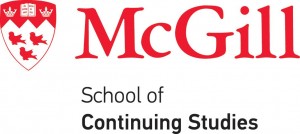 McGill's School of Continuing Studies
The School of Continuing Studies has an international reputation as a leader in university continuing education. Our instructors are dynamic and engaged, our student body is smart and diverse, and each brings with them a wide range of experience from all walks of life. Through excellence in teaching, innovative programs, and enabling learner services, the School equips adult learners with the professional skills required to succeed and make a valuable contribution to society.
Approximately 15,000 learners are welcomed on a yearly basis.

Approximately 60% of students are women.

Approximately 50% of students are new arrivals to Canada.

Learners are 10-15 years older than traditional undergraduate students.

Over 50 part-time or intensive programs are offered.
Bursaries and Scholarships
Funding education, even on a part time basis, is a challenge many individuals face when arriving to Canada.  Newly arrived Montrealers may need to build on existing credentials and having access to bursaries and scholarships can help alleviate some of the financial burden.   
In 2016, le Centre Culturel Syrien partnered with the McGill School of Continuing Studies to help create the following bursary funds to help recent arrivals to Montreal. These include the following:
Karim Ghassan Ejjeh Bursary for Syrian Refugees

Nizar Qabbani Bursary for the School of Continuing Studies

Bursaries for Refugees, a crowdfunding initiative supported by alumni and the Montreal community
Building on this momentum, the 2016 Concert for Syria, is partnering with the School of Continuing Studies to establish a scholarship fund for students of Syrian origin.  Support this project, by making your donation TODAY.
For more information about the School's offerings, please contact:
688 Sherbrooke Street West, 11th floor
514-398-5737
gianna.giardino@mcgill.ca