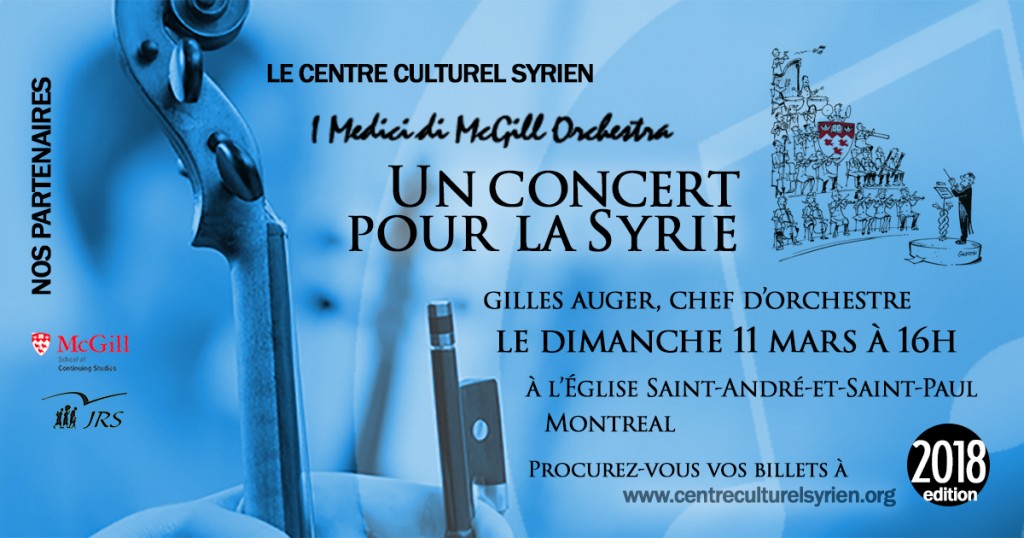 It is with great enthusiasm that we announce the 3rd edition of the benefit concert for Syria on Sunday March 11, at 4 pm, performed by the I Medici di McGill Orchestra, under the baton of Maesro Gilles Auger, at The Church of St. Andrew and St. Paul at 3415 Redpath Street in Montreal (entrance for public on Sherbrooke Street).
Programme:
We count on your participation and your support in our effort to help alleviate the plight of internally displaced persons in Syria and those affected by the situation in Syria.
Thanks to your generosity we hope to continue to provide financial support to Syrians through our partners JRS(Jesuit Refugee Service), a well respected charity working in Syrian since 2008 and recognized by the Canadian government, and the McGill School of Continuing Education providing scholarships for Syrian refugees and immigrants in Canada.
This year, the benefit concert will be followed by a cocktail, a private reception to network in a festive atmosphere. (Gold tickets)